The 2021 Subaru Love Promise Community Commitment Award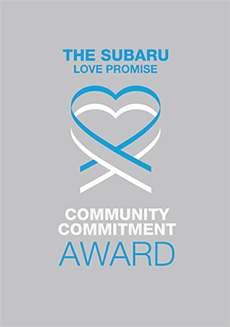 We've been nationally recognized for our dedication to our community and the Subaru Love Promise.
We're honored to receive the 2021 Subaru Love Promise Community Commitment Award. This award nationally recognizes Subaru retailers who are making the world a better place while demonstrating an outstanding commitment to supporting passions and causes in local communities. These efforts are focused in important areas such as the environment, community, health, education, and pets.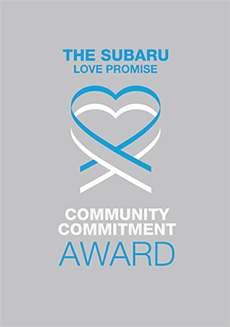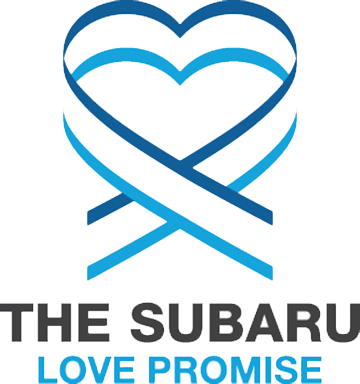 What is the Subaru Love Promise?
Subaru and our retailers believe in making the world a better place and the Subaru Love Promise is our vision of respecting all people. This is our commitment to show love and respect to our customers and to work to make a positive impact in the world.
How is Wilkins Subaru dedicated locally to the Love Promise?
At Wilkins Subaru we recognize not only our obligation to service the automotive needs of our customers, but just as importantly to support the interests and values to which they are committed.
Greyhound Rescue, Inc, SPCA of Anne Arundel County, Baltimore Humane Society
Cool Kids Campaign, Baltimore Farmers' Market, Baltimore FlowerMart, Boys & Girls Club of Annapolis & Anne Arundel Co.
Arundel House of Hope, Maryland Food Bank
Love Promise Stories from Wilkins Subaru
Subaru and Wilkins Subaru believe in making a positive impact on the communities in which we live and work. We uphold that belief through our Love Promise Community Commitment. Every month, we select inspiring stories from customers and partners from around our area who strive to support our collective commitment and feature them here
Wilkins Subaru Donates Blankets to the Homeless - Mario B
Arundel House of Hope was very fortunate to receive blankets from Wilkins Subaru, we received over 80 blankets to hand out to our homeless clients this year to help them stay warm during the Winter months. Our clients were very thankful for receiving the warm blankets. Thank You Wilkins Subaru for all your support!
---
Paws on the Mountain Greyhound Rescue, Inc - Peter D
Paws on the Mountain is the new name for Greyhound Rescue, Inc. We have been participating with Wilkins Subaru in their Pet Adopt-a-Thon festival held for every year shortly after it began. Greyhounds are heat sensitive and require a temperature controlled environment if they are going to be at any event for a long period of time. Wilkins Subaru generously provided tables and chairs and plenty of space for these large dogs to set up inside the show room particularly when one year the outside temperature reached 100 deg. Wilkins Subaru went out of their way to make the dogs and owners comfortable. Wilkins Subaru contacted outside vendors to donate goods and each dog went home with a bag of goodies. The goal of these events is to spread the word about these wonderful dogs and get potential adopters to come in, meet the dogs and learn about them. Wilkins Subaru successfully advertised in local newspapers and other media and attracted many people to come and visit the dogs. Over the years Paws on the Mountain got from 2 to 6 potential adopters at every event. Because of Wilkins Subaru generosity the dogs were happy, well behaved and very glad to be there.
---
Making the Future Brighter for Local Youth - Jennifer L
Thank you to Wilkins Subaru for choosing the Boys & Girls Clubs of Annapolis & Anne Arundel County (BGCAA) as your local partner in the Share the Love Campaign. With BGCAA's Heritage Overlook Boys & Girls Club barely one mile from Wilkins Subaru, the support is as local, and impactful, as it gets. Thanks to Wilkins Subaru, BGCAA can truly make the world a better place for local youth, and their families, by assuring that all youth have access to quality after school programs until 7pm, and an affordable 8-week Summer Camp. We are grateful for community partners like Wilkins Subaru that move the needle for 'kids who need us most' right here in our local communities. Kids who now have access to programs like Power Hour (homework help to achieve academic success), STEM Mentoring, Be A Star which focuses on bullying prevention, and a nutritious meal daily from the Maryland Food Bank. Thank you to Wilkins Subaru for all you do through the Share the Love Campaign, and year-round, to support BGCAA! Thank you for making the world a better place starting right here in our community.
---
Wilkins Subaru Delivers Warmth to Cancer Patients - Jillian J
On Tuesday, July 9th, The Leukemia & Lymphoma Society's (LLS) Maryland Chapter and Wilkins Subaru of Glen Burnie had the pleasure of delivering 80 blankets and 30 arts & crafts kits to the Tate Cancer Center as part of the Subaru Loves To Care program. These comforting gifts were accompanied by personalized messages of hope written by the customers and staff of Wilkins Subaru of Glen Burnie. Representatives from Wilkins Subaru, the Tate Cancer Center at the University of Maryland Baltimore Washington Medical Center, and the Maryland Chapter of The Leukemia & Lymphoma Society were all present during the blanket delivery, in addition to several blood cancer survivors and former patients. This incredible act of generosity was warmly received by Susan Iaquinta, the Tate Cancer Center's Special Events and Donor Relations Officer, and other Baltimore Washington Medical Center staff who were thrilled to distribute these comforting gifts to their patients. LLS is proud to partner with Subaru to spread hope, love and warmth to those fighting cancer, across the country and right here in the Glen Burnie community.
---
Subaru is "All In" for Youth - JENNIFER L
Thank you to Wilkins Subaru for supporting the Boys & Girls Clubs of Annapolis & Anne Arundel County (BGCAA) and all of the amazing connections you've made with, and for, our newest Clubhouse in Glen Burnie, Maryland. The Subaru Share the Love Event has blossomed into a year-long partnership with direct and immediate impact on local youth. Wilkins Subaru not only chose BGCAA as their local charity for the Share the Love Campaign but donated books, games, legos, and backpacks to our newest Clubhouse on opening day in December, 2018. That was quickly followed by a donation of gently used hats, jackets and winter necessities for BGCAA members who were in need of warmer winter attire. BGCAA now feels like part of the Wilkins Subaru family and enjoyed a wonderful Pizza Party for Club staff and Club members during the "Share the Love" check presentation. Club members in turn did their own "Love Presentation" back to Wilkins Subaru, thanking them for their donation, pizza and hands-on support. Most recently Wilkins Subaru donated tickets to the National Aquarium to the Boys & Girls Club at Glen Burnie as a summer field trip. Thirteen Summer Campers, two BGCAA staffers, and one Wilkins Subaru team member enjoyed this special field trip that was made possible by Wilkins Subaru. Many of the campers had never been to the Aquarium before and are already wondering when they can go again. Thank you to Wilkins Subaru for opening up a new world to our Club kids. Thank you to everyone at Wilkins Subaru for making BGCAA part of your family and continually going above and beyond to support youth who "need us most" in Anne Arundel County, Maryland. With your help we can continue to inspire and enable ALL young people, especially those who need us most, to reach their full potential as productive, responsible and caring citizens. Thank you for making GREAT FUTURES possible for local youth.
---
Subaru loves Service Dogs - Beth L
I am a disabled Veteran. In 2009 I was a Public Affairs Army Non Commisioned Officer serving in Egypt. I was struck in the back of the head by a light pole and suffered a career ending injury. Many years later I have a service dog in training named Alister. He was a rescue from West Virginia when he was taken into a loving foster home by a local rescue Canine Humane Network. I knew I wanted a rescue dog to be my service dog. When I began looking for a car to replace my current SUV I wanted to make sure the car company I chose exemplified my values. Helping rescue dogs just like Alister. I worked with Wilkins Subaru and couldn't have been more impressed. Every step of the way the were honest and professional, even giving me pieces of information that saved me money. I couldn't be prouder to drive a Subaru Crosstrek- I feel safe when driving and it has the perfect room for Alister and I. And I know that by supporting Subaru I am also supporting the many causes your company gives to. Thank you!
---
Spreading Heartfelt Comfort and Messages of Hope - Sheronda B
Wilkins Subaru teamed up with the Leukemia & Lymphoma Society, Maryland Chapter to present 80 blankets and care cards to the Tate Cancer Center at the Baltimore Washington Medical Center to keep patients warm while undergoing treatment. Because Leukemia is the most common form of cancer in children, and 12 art and craft kits were presented for those kids in treatment. Of course, this would not have been possible without the support of our amazing and caring Wilkins Subaru customers. This gesture of warmth was presented by Sarah Fullerton, Product Specialist Manager, Wilkins Subaru joined by Sheronda Booker, Donor Development Director, The Leukemia & Lymphoma Society to Crystal Edwards, Executive Director, Tate Cancer Center, Dr. Cherif Boutros, Medical Director, Tate Cancer Center, and the Clinicians and Medical Team of BWMC's Tate Cancer Center.
---
Spirit of Excellence - Jeanette B
I am very pleased with the experience I had at Wilkins Subaru. I would not have ordinarily gone that far from home to purchase an automobile that was available at dealerships closer to my home. However, I am not sure that the others could have given me the confidence that I had in believing what I was told. You see, I am not a little suspicious because I am a recent widow and have been taken advantage of and I had not purchased an automobile in about a decade. Wilkins' team put my mind and heart at ease. The team was, in my opinion, very knowledgeable, raised my confidence, came over as being honest and truthful with me. They answered my questions with patience and explained things in a way that I could understand. I am pleased with the whole transaction. I can say that they have a winning team and I have already begun telling folk what a great car the Subaru is and that they will not be disappointed if they visit Wilkins Subaru. I was impressed with the follow-up call in just 24 hours. A class act team.
---
We could not do what we do without Wilkins Subaru - Katie K
Wilkins Subaru in Glen Burnie chose Cool Kids Campaign as its hometown charity for the 2015 Share the Love Campaign. Cool Kids Campaign is a local nonprofit dedicated to improving the quality of life for children with cancer and their families. The foundation is so grateful for the support of Wilkins Subaru. Through Share the Love, they raised $20,000 to be used to help fund programs to help these kids going through cancer treatment and their families. The money that was donated is being used to help start the first ever Cool Kids Camp, which is the only overnight pediatric oncology camp in Maryland for both patients and siblings. We could not do what we do without Wilkins Subaru!
---
Subaru Loves Learning Book Drive August 1 - 31 - Danielle S
Join us in our Subaru Loves Learning initiative during the month of August! We are partnering with the American Association for the Advancement of Science (AAAS) in donating science books to North Glen Elementary School in the Anne Arundel County School District. All of the books that will be donated have been recognized by AAAS as some of the best science books in their field. Contact us to learn more information.
---