Subaru Electric Vehicles Lineup, Benefits, & More

New Subaru electric vehicles are coming. We know that you love the Subaru brand for everything it stands for. You've come to expect that Subaru vehicles perform, last, protect, and retain their value. We know it's hard to make a change, but the love built into the Subaru brand is at the core of every new vehicle. If you love freedom from fossil fuels, freedom from tailpipe emissions, and the freedom to connect with your world without the rumble of an engine, then you will love the first EV to make its debut from this trusted brand.
The Start of Subaru Electric Vehicles Is Now
The Subaru Solterra EV SUV is the first to debut among all Subaru all-electric vehicles. This model embodies everything that you've come to expect from the Subaru brand and is available in three trims to meet your styling and performance needs. Built on the e-Subaru Global Platform, this model keeps AWD capabilities standard. You'll never have to compromise. Your Subaru EV will be up to any challenge.
Our Subaru electric vehicles are loaded with all your favorite features, which makes for a seamless transition into a petrol-free future. Your Subaru Solterra EV SUV can have features like AWD, impressive ground clearance, ADAS driver safety, automatic climate, premium wheels, roof rails, a power tailgate, temperature-controlled seating, a 12.3-inch multimedia system, wireless charging, Harman Kardon® premium audio, 360 cameras, and so much more. Would you expect anything less from your favorite brand? Stay connected to our Subaru Solterra release info page for more.
Boost Your Subaru Electric Vehicles Vocab
So what's all this madness you've heard about with volts, watts, and hours? At first glance, listening to someone talk about the new Subaru electric vehicles can be confusing. But think about how the terms "engine" and "oil" and "combustion" must have sounded in 1900. Like all new things, it takes some getting used to. Here are some of the top EV vocab words that you need to know about
AC/DC Power - While images of rock-n-roll come to mind, AC/DC power has another definition. DC (or direct current) is stored, pure energy. That's what's in your battery. AC (alternating current) is responsible for electromagnetism, the electrical force that turns your wheels.


Lithium-Ion Battery - Lithium is a highly reactive element, and its ions make an incredible conduit for the transfer (and collection) of energy. Your battery is made up of lithium-ion cells with various power capabilities.


kWh - A kilowatt hour is a unit of measure related to the total amount of energy stored in a vehicle. Subaru electric vehicles will have a battery of a certain kWh size. The larger the number, the more potential power the vehicle might have.


Voltage - Voltage amounts can seriously boost the performance of a Subaru EV. In engineering terms, Voltage is synonymous with the idea of pressure. The higher the number, the more electric force is applied to a system. You could also think of higher voltage numbers as doing the same thing as a turbocharger or supercharger. It boosts the power capabilities of a standard engine.


J-Plug - An SAE J1772 is the connector type used to charge your vehicle. There are public charge stations with high-speed j-plugs and factory-provided cables for accessible EV charging at home.


There are plenty of other terms to know, so feel free to connect with one of our EV specialists for tips, tricks, and insights about any of the forthcoming Subaru electric vehicles.
Life With Our Subaru Electric Vehicles
---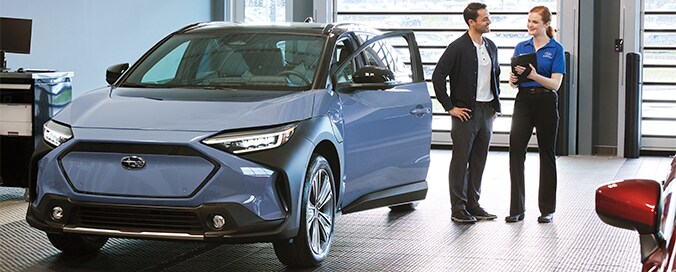 So now that you're a bit more familiar with our debut model, you're probably wondering how life will be different once behind the wheel of our Subaru electric vehicles. The wonderful reality is that nothing really changes. You drive like you always do. You replenish your fuel supply when you need to. Except this time, you have the added benefit of knowing that you're doing something for the planet.
But enough about the planet for a second. Let's talk about you. And the many financial benefits await you once you take home a Subaru EV. You can get premier parking wherever a charge station is located. You have access to many HOV lanes on the interstate. The cost of electricity is less than the average cost of gas. And there are even more incentives too good to resist.
Another benefit that's too good to ignore is the availability of Level-2 charging stations at no cost to you. Nearly every major city in America has this benefit, and in our area alone, you can count on 443 stations that can be used without cost. Let us know if you've seen a gas station lately that waives their fee. With a growing charge infrastructure, you'll never have to work about your Subaru electric car's range. And with high-speed charging, you're on your way in no time.
By opting for an electric Subaru vehicle, you're opening yourself up to a world of technological capabilities. The all-new 2023 Subaru Solterra, for example, boasts a high-resolution 12.3-inch touch screen, standard wireless Apple CarPlay® and Android Auto™, and available wireless phone charging for your compatible device. In addition to this, the Solterra comes equipped with active safety features, such as Blind-Spot Detection and Reverse Automatic Braking.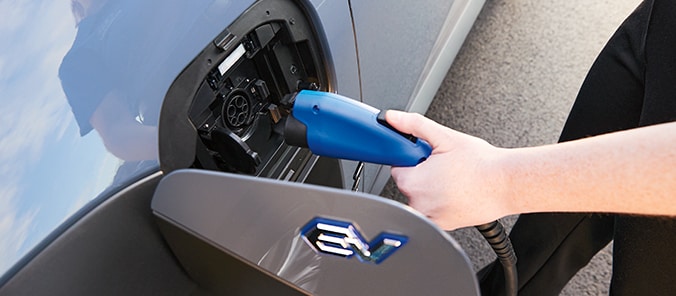 Subaru Electric Vehicle FAQs
Is Subaru making an electric car?
Yes. The first of many Subaru electric cars will be the Subaru Solterra EV SUV. This vehicle offers AWD, comfort, and convenience without using a single drop of fossil fuels.
What incentives are there to buy an EV?
Some electric vehicles qualify for a federal tax credit. There are many ways that this benefit can apply to you at tax time, so speak with your tax professional about your options. We recommend reaching out to our team, as federal tax credits are subject to change.
What is an electric vehicle?
Believe it or not, the first automobiles were electric. However, the technology was not sustainable over 120 years ago. Today, electrified vehicles are emission-free and use a lithium-ion battery to supply power to the wheels.
Continue Your Subaru Research In Glen Burnie, MD: