Our Subaru auto finance staff is here to present you with options when it comes to buying or leasing your next vehicle. We streamline the process at Wilkins Subaru to save you time and money as the experts in our finance department make magic happen.
You could finance a new Subaru Forester® or see what else we can offer when you talk to the members of our finance team. Schedule an appointment today to discuss what's available to you after reading about all our unique offerings at Wilkins Subaru.
We Can Show You the Pros and Cons of Buying and Leasing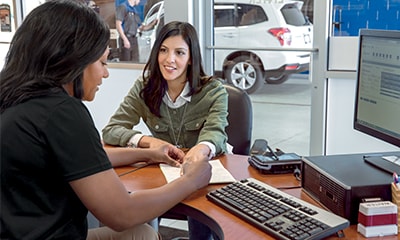 If you are having trouble choosing between buying or leasing your next car, our Subaru auto finance team can help you decide. We will lay out the benefits and disadvantages to each option based on your current situation and needs as a driver.
While buying may provide you with a vehicle that will last many years to come, a lease can give you other perks such as a lower down payment, a lower monthly payment, and no chance of negative equity.
Whether you decide you need a Subaru auto loan or want to negotiate a leasing contract, we are here to offer you our assistance in any way we can near Baltimore. You can use our online comparison page to help you decide or stop by Wilkins Subaru so one of our expert associates can help you with this decision.
Learn More About Our Available Programs
You deserve happiness, which is why we provide different programs in our Subaru auto finance department that can put you in the car of your dreams. The design of these initiatives puts the customer first as they provide you with options for switching out your vehicle with an upgrade, such as a new Subaru Outback®.
The programs we offer in our Subaru finance department include:
Guaranteed Trade-in Program
Wilkins Vehicle Exchange Program
Subaru Trade Up Advantage® Program
Each of these programs requires you to bring in your current vehicle for a free assessment so we can see if you qualify for a loan or lease that is the same or lower than your current monthly payment. Schedule an appointment with one of our staff members today to see which programs you qualify for in Glen Burnie, MD.
Save Money With Our Incentives
You don't have to give up your left arm or sell a kidney to buy a car from our dealership, especially when you take advantage of our current offers near Columbia. We have monthly Subaru new car financing specials and manufacturer deals on 2021 and 2022 Subaru models.
These incentives provide you with several Subaru finance options upon credit approval, and our expert financial staff is always up-to-date on our offerings.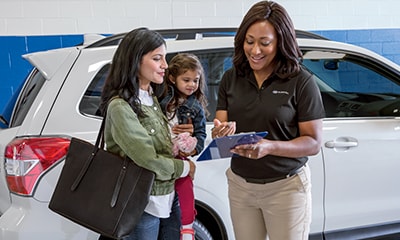 You only have to concern yourself with picking out the trim style and features you want, even in our used SUV selection, and let our Subaru auto finance staff do the rest.
Schedule an Appointment With Our Subaru Auto Finance Experts at Wilkins Subaru
Take stress out of the equation near Pasadena when you make an appointment to talk with the experts in our Subaru auto finance center about your options. We have representatives available Monday through Saturday who can help you find a loan or lease within your budget.
Explore our programs, ask about our incentives, and simplify your car-buying experience when you choose to shop with us. Our Subaru auto finance team is waiting to take your call, so contact us today at Wilkins Subaru to start the process that ends with you driving away in the Subaru model you've always wanted.